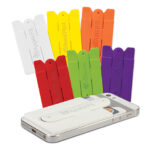 Snap Phone Wallet. TC-108047
Description
Product Code: TC-108047

Product Description: Soft-touch silicone wallet with a handy snap out phone stand which adheres securely to the back of a phone or phone case with strong 3M adhesive that won't leave marks if it is removed. It is ideal for holding a drivers licence, ID, hotel key, credit card or business cards.

Colours: White, Yellow, Orange, Red, Bright Green, Purple, Black.
Lead time: 7 Business Days

Size: L 96mm x W 57mm x 4mm.

Printing Details: Debossed Silicone. Digital Print

Minimum order: 100