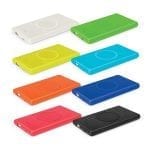 Omni Wireless Power Bank. TC-115555
Description
Product Code: TC-115555
Product Description: Omni is the future of power banks with 4000mAh of power storage. It features a 5W wireless phone charger that is compatible with devices enabled for wireless charging and will charge most modern phones. Simply place a compatible device on the round silicone pad for convenient wireless charging. Omni also offers conventional charging for almost any phone. It has an input power of 5V/1.5A, and an output power of 5V/2.1A. Recharging time is 4-5 hours from a USB port or a mains adaptor. It is supplied with a Micro-B USB cable and an instruction leaflet. An optional EVA carry case and a triple connector cable are available on request.
Colours: Power bank: White, Yellow, Orange, Red, Bright Green, Light Blue, Dark Blue, Black.
Lead time: 7 Business Days
Size: Power bank: L 129mm x W 70mm x 11mm.
Printing Details: Direct Digital, Digital Label
Minimum order: 25